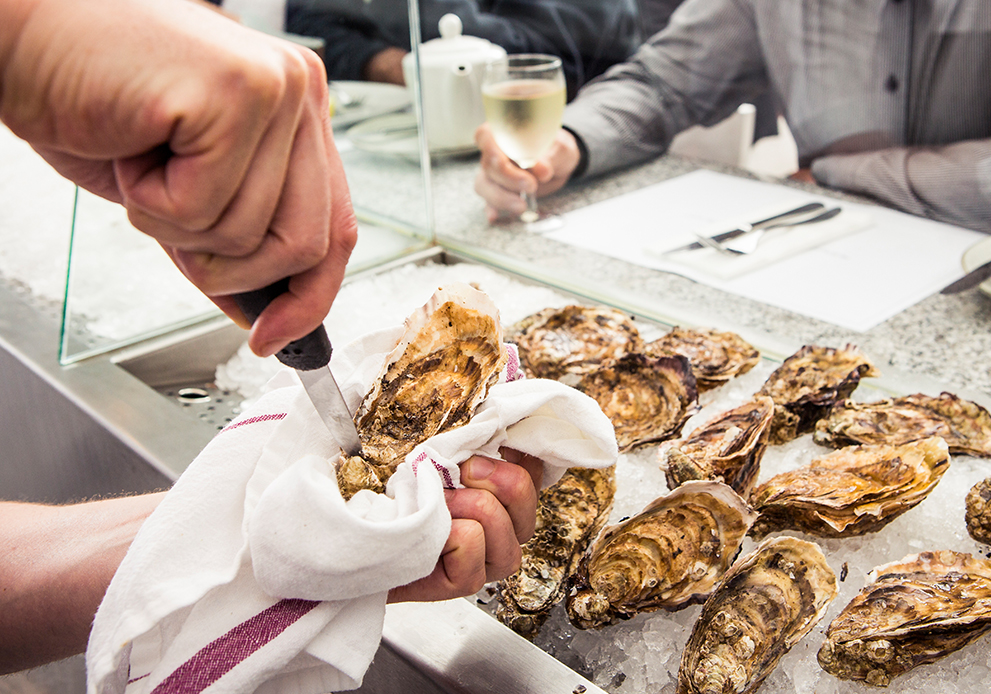 LOCH FYNE OYSTER BAR
For Oyster Bar reservations please email oyster.bar@lochfyne.com
or t: +44 (0)1499 600482
Loch Fyne Oyster Bar - until Sunday 15th May 2022
Open 9am to 5pm daily.
Breakfast served from 9.30am to 11am.
Lunch served from 12 noon with last orders at 4pm during the week and 4.30pm on Friday and Saturday.

*New Opening times from Monday 16th May 2022*
Open 9am to 5pm daily.
Morning Coffee & Cakes served in the Conservatory from 9.30am to 11am.
Lunch served from 12 noon with last orders at 4:30pm and 5.00pm on Friday and Saturday.

Loch Fyne Takeaway
Open 12 noon to 4.30pm Sunday to Thursday.
12 noon to 5pm Friday and Saturday.


Loch Fyne Garden
Open for takeaway customers.
Loch Fyne Oyster Bar Menu
Small Plates & Starters
Hebridean Mussels White Wine, Herbs, Cream, Garlic, Spring Onions £8 half Kilo & £15 One Kilo
Hand Dived Scallops Carrot & Ginger Puree, Black Pudding Crumb £12
Smoked Haddock & Bacon Chowder Bread £8
Loch Fyne Salmon Selection Bradan Rost, Bradan Orach, Classic Smoked, Horseradish Cream, Baby Capers £13
Loch Fyne Caesar Salad Romaine Lettuce, Cajun Croutons, Parmesan, Blue Cheese Dressing, Olives £6
Loch Fyne Caesar Salad with Home Smoked Chicken Romaine Lettuce, Cajun Croutons, Parmesan, Blue Cheese Dressing, Olives £9
Scallop Arancini Panko Crumb, Rocket Salad, truffle Mayo £8
Beef & Oyster Braised Beef, Crispy Oyster, Beetroot & Horseradish Puree £9
Bradan Rost Smoked Haddock, Fishcake, Lobster Bisque £9
Freshly Prepared Soup Fresh Baked Bread £6
Home Cured Beetroot Gin & Gravadlax Oatcakes, Swedish Mayonnaise £10
Squat Lobster Garlic Butter, Crusty Bread £12
Oysters
Half a Dozen Fresh Oysters with Shallot Vinegar £15 or £2.50 each
Hot Oyster Selection Choose from Garlic & Parmesan Crumb, Chilli & Cheddar, Crispy Panko, Horseradish Mayo 6 £18
Seafood & Larger Plates
Fillet of Stone Bass Wild Garlic Mash, Black Onion Puree & Crispy Onions £21
Linguini Arrabiata Pan Fried Langoustine Tails, Chilli Flakes, Aubergine £21
Fillet of Lightly Smoked Salmon Samphire, Tomato & Chardonnay Cream, Potato & Herb Gnocchi £21
Hand Dived Scallops Curried Veloute, Fondant Potatoes, Savoy Cabbage, Samphire £28
Butternut Squash Risotto Goats Cheese, Pine Nuts, Pumpkin Seeds £16
Pan Seared Angus Sirloin Hand Cut Chips, Onion & Mushroom Compote, Pepper Sauce £28
Tarbert Lobster Old Bay Fries, Garlic Butter, Aioli Whole £40 Half £24
Peterhead Haddock Fillet Crisp Batter, Hand Cut Chips, Tartare Sauce £16
Loch Fyne Seafood Platter Brown Crab, Lobster, Langoustines, Scallops, Mussels, Razor Clams, Oysters Whole £120 Half £65
Loch Fyne Langoustines Garlic Butter, Old Bay Fries £30


Sides
Truffle & Parmesan Hand Cut Chips
£5.50

Old Bay Fries
Aioli £4

Spring Greens
£4
Rocket & Parmesan Salad
£4.50
Creamy Mash Potato
£4
Mac & Cheese
£5
Dessert
Pineapple Tarte Tatin Coconut Ice Cream £7
Sticky Toffee Pudding Toffee Sauce, Vanilla Ice Cream, Fudge Pieces £6.50
Two Scottish Cheeses Chutney, Arran Oatcakes £7
Autumn Fruits Crumble Vanilla Ice Cream £7
Chocolate Brownie Blood Orange Sorbet £6.50
Selection of Ice Cream £1.50 per scoop
All menu items are subject to change, based upon availability.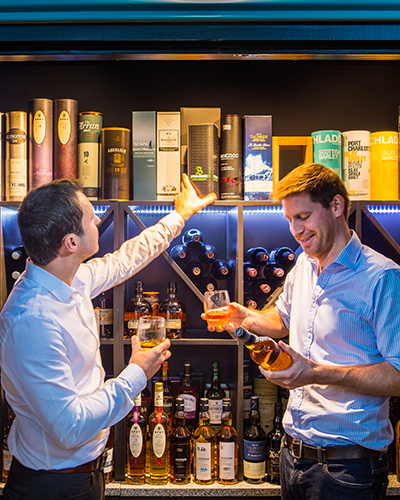 Loch Fyne Oyster Bar Takeaway Menu
Soup of the Day Crusty Bread £4

Six Fresh Oysters Lemon & Shallot Vinegar £10

Classic Smoked Salmon Baby Capers, Lemon & Dill Ketchup £6
Mussels White Wine, Garlic, Cream £6
Scampi & Chips, Tartare Sauce £12
Fish & Chips Tartare Sauce £12
Thai Salmon Noodles £10


Sides
Chips £2.50


Ask about our weekly specials when ordering!

All menu items are subject to change, based upon availability