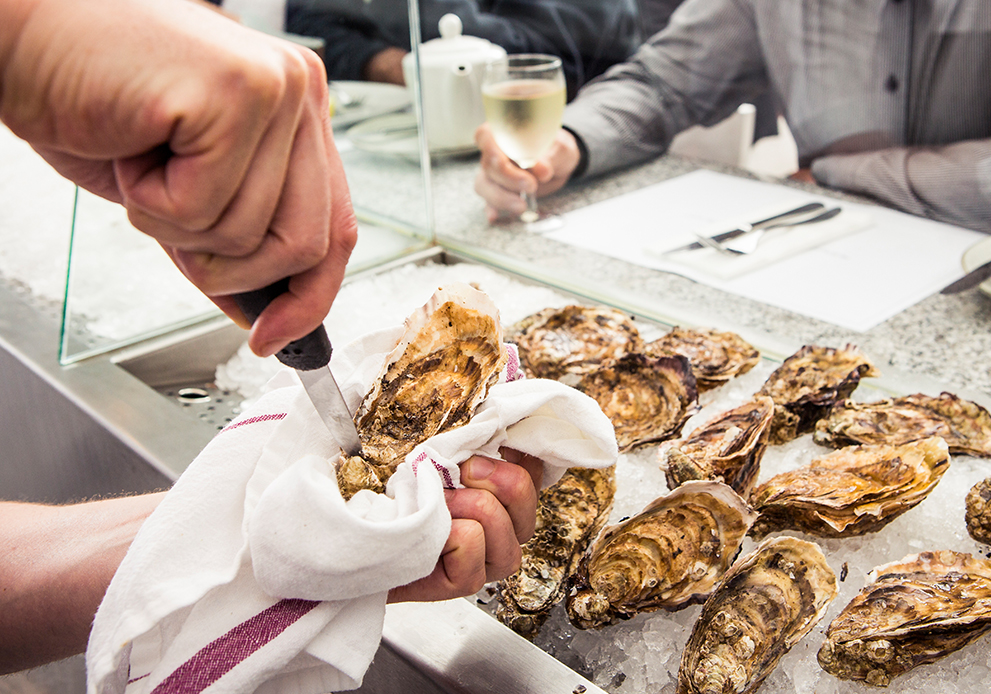 LOCH FYNE OYSTER BAR
Loch Fyne Takeaway
Sunday to Thursday 12 noon to 5pm.
Friday and Saturday 12 noon to 6pm.
Loch Fyne Oyster Bar
Please book in advance.
Open Sunday to Thursday 12 noon to 5pm.
Friday and Saturday 12 noon to 6pm.
For booking enquiries please email oyster.bar@lochfyne.com or tel: 01499 600482
Loch Fyne Garden
Open for takeaway customers.
Loch Fyne Oyster Bar Menu
To start
Soup of the Day Served with Local bread £5
Smoked Haddock & Bacon Chowder Served with Local Bread £5/£8
Loch Fyne Smoked Salmon Selection Classic, Bradan Orach, Bradan Rost, Dill Ketchup, Baby Capers £12
Tarbert Scallops Garlic Butter, Black Pudding £12
Bradan Rost Celeriac & Apple Remoulade £8
Feta, Tomato & Red Onion Salad Herb Croutons, Baby Leaves, Balsamic Dressing £7
Smoked Salmon & Crab Arancini Spicy Tomato Relish £7
Smoked Selection Bradan Rost Pâté, Smoked Haddock Pastry, Smoked Mussels,
Smoked Cod, Dill Ketchup £9
From Land & Sea
Deep Fried Peterhead Haddock Chips Homemade Tartare Sauce £15
Lightly Smoked Salmon Fillet Samphire, Green Beans, Crushed New Potatoes, Hollandaise £17
Seafood Linguini Salmon, Langoustine Tails, Prawns, Thai Spices, Coriander, Coconut Milk, Ribbon of Vegetables £18
Loin of Cod Peas, Smoked Bacon, Baby Onions, Cream £17
Loch Fyne Kippers Buttered New Potatoes, Samphire £18
Angus Beef Burger Pretzel Bun, Onion & Mushrooms, Mustard, Cheddar Chilli Jam £14
Linguini Seasonal Veg, Thai Broth £15
The Shellfish Bar
Today's Oysters Shallot Vinegar 6 for £12 or £2 each
Grilled Oysters Choose from Garlic & Herb Breadcrumb or Smoked Cheddar & Chilli 6 for £15
Crispy Oysters Deep Fried in Panko Breadcrumbs, Horseradish Mayo 6 for £15
Mary's Grilled Tarbert Langoustines Chips, Garlic Butter £26
Tarbert Landed Lobster Chips, Garlic Butter £24 1/2 or £40 whole
Whole Brown Crab Chips, Aioli £17
Tarbert Scallops Black Pudding, Garlic Butter £24
Tarbert Shellfish Platter Tarbert Crab, Tarbert Lobster, Crab Claws, Mary's Langoustines, Today's Oysters, Hand Dived Scallops, Trio of Cold Sauces 1/2 Platter £60 Full Platter £110
Sides
Baked Local Bread Butter £2
Olives Pitted Olives in Balsamic dressing £3
Buttered Greens £3.50
Thick Cut Chips Garlic Aioli £3.50
Rocket & Parmesan Balsamic Oil £3.50


Dessert
Pineapple Tarte Tatin Coconut Ice Cream £7
Sticky Toffee Pudding Toffee Sauce, Vanilla Ice Cream, Fudge Pieces £6
Two Scottish Cheeses Chutney, Arran Oatcakes £6
Pana Cotta White Chocolate & Rhubarb Crumble £6.50
Chocolate Brownie Vanilla Ice Cream £6
Selection of Ice Cream Please ask for flavours £1.25 per scoop
All menu items are subject to change, based upon availability.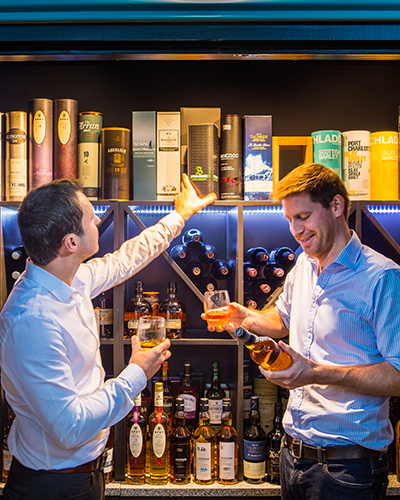 Loch Fyne Oyster Bar Takeaway Menu
NOW OPEN

Starters
Soup of the Day Crusty Bread £5

Six Fresh Oysters Lemon & Shallot Vinegar £6

Classic Smoked Salmon Baby Capers, Lemon & Dill Ketchup £6
Mains
Fresh North Sea Haddock Thick Cut Chips, Tartare Sauce £9.50

Whole Tail Scampi Thick Cut Chips, Tartare Sauce £10

Thai Salmon & Vegetable Noodles £8



Ask about our weekly specials when ordering!

All menu items are subject to change, based upon availability