12 Loch Fyne Rock Oysters
Winner Great Taste 2020 1 Star, 2019 3 Stars. Great British Food Awards 2020 Highly commended.
If ordering Loch Fyne Oysters for the Christmas celebrations, please select the last available delivery slot on the calendar at check out and then we will manually amend the date to the following week to ensure they are as fresh as possible.
Loch Fyne Oysters were highly commended in the Great British Food Awards 2020 and have received the Great Taste 2020 1 star and 2019 3 Stars award, the highest possible rating from the largest and most trusted food and drink awards. The judges commented: "They taste so fresh, as if they have just been shucked straight from the ocean. Closing ones eyes we are still at the seaside, listening to the waves. Stunning, a real treat!"

The taste of an individual oyster very much reflects the environment in which it is grown – from open sea sites and bays to sea lochs with lower salt levels. After 2-3 years of care and attention, our oysters reach marketable size. Once harvested, every oyster is graded and purified in filtered natural seawater here at Cairndow.
Opening Loch Fyne Oysters

Rinse with drinking water prior to opening.
Open immediately before consuming (within one hour).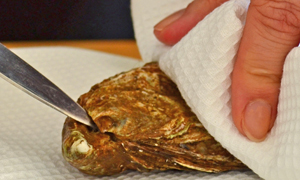 Hold the oyster cup side down on a firm surface with the pointed hinge end facing you.
You may find it helpful to place a folded tea towel or cloth on top of the oyster.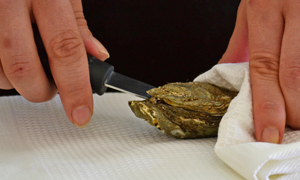 Please the tip of a short blunt knife at the hinge of the shell at an angle of 45°.
Press hard while wiggling the knife until the tip has entered the shell.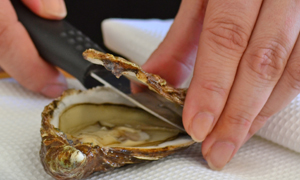 Once the knife blade is inside the shell, make a sweeping cut under the top lid to loosen the oyster and remove the top shell.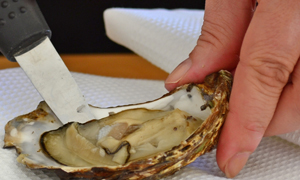 Loosen the oyster meat from the bottom shell by gently runnig the knife under the flesh.
Serving Notes
This product is ready to consume without cooking and must be alive when sold.
Live oysters will have tightly closed shells and a pleasant odour.
Tapping two healthy oysters together will give a sharp sound like pebbles on a beach.
To eat "au naturel" add lemon juice, vinegar seasoning or Tabasco sauce.
Ingredients
Farmed UK Oysters (MOLLUSCS) 100% (Crassostrea gigas)
Allergens are identified in CAPITALS.
Storage
Store in a refrigerator at 0° to 4° C. Once pack is opened keep refrigerated and consume within the use by. Not suitable for freezing.
Nutritional Information
| | | | |
| --- | --- | --- | --- |
| Typical Values | Per 100g | RI for Average Adult | RI% |
| Energy | 339kj/81kcal | 8400kj/2000kcal | 4.1% |
| Fat | 2.3g | 70g | 3.3% |
| of which saturates | 0.5g | 20g | 2.5% |
| Mono-unsaturates | 0.4g |   |   |
| Poly-unsaturates | 0.9g |   |   |
| Carbohydrate | 4.9g | 260g | 1.9% |
| of which sugars | 0g | 90g | 0% |
| Fibre | 0g |   |   |
| Protein | 9.4g | 50g | 18.8% |
| Salt | 0.3g | 6g | 5% |
Reference intake of an average adult (8400kj / 2000kcal)
RI = % of your daily reference intake