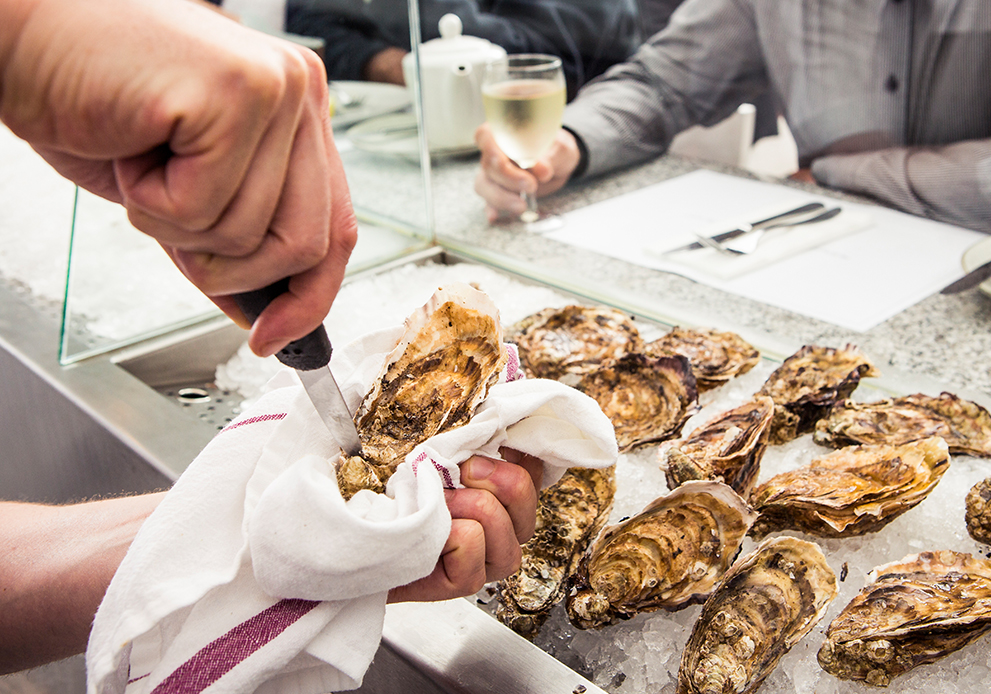 LOCH FYNE OYSTER BAR
For Oyster Bar reservations please email oyster.bar@lochfyne.com
or t: +44 (0)1499 600482
Loch Fyne Oyster Bar
We strongly recommend that all customers reserve in advance to avoid disappointment.

Loch Fyne Takeaway
Preordering is not required for the takeaway.
Loch Fyne Garden
Open for takeaway customers.
While You Decide
Chilli and Lime Olives £6 (V) (Vegan) (GF) (DF)
Baked Bread Salted Butter £3.50 (V)
Fresh Loch Fyne Oysters Lemon £2.50 each (GF) (DF)
To Start
Smoked Duck Leg Arancini, Tomato Ragu, Rocket & Truffle £10.50
Smoked Haddock & Bacon Chowder, Bread £9.50
Scallop Arancini, Tomato Ragu, Rocket & Pine Nut Salad £9.50
Loch Fyne Salmon Selection Bradan Rost, Bradan Orach, Classic Salmon, Horseradish Cream, Baby Capers, Bread £15.50
Loch Fyne Caesar Salad Romaine Lettuce, Cajun Croutons, Parmesan, Bacon & Anchovy Caesar Dressing £10
Add Bradan Rost £4
Smoked Mussel Fishcake, Langoustine Bisque, Tarragon Oil £12
Scallop & Prawn Thermidor, Pommes Aligot £15.50
Whitebait Tartare Sauce £9
Freshly Prepared Soup Fresh Baked Bread £8
From Land & Sea
Loch Fyne Fishcake Smoked Salmon, Hake & Coley, Clarified Paprika Butter, Buttered Savoy, Fried Egg & Béarnaise £24
Fillet of Lightly Smoked Salmon Horseradish Mash, Creamed Leeks £22
Peterhead Haddock Fillet Crispy Batter, Chips, Tartare Sauce £19.50 (DF)
Loch Fyne Butterflied Langoustines Garlic Butter, Chips £32 (GF)
8oz Wild Boar Burger, Brioche Bun, Tomato, Lettuce & Beetroot Coleslaw, Chips £19
Smoked Haddock Kedgeree Coriander, Soft Poached Hen's Egg £18 (GF)
6oz Fillet Steak, Grilled Tomato & Confit Portobello Mushroom, Chips £35 (GF)
Add Peppercorn Sauce, Béarnaise or Garlic Butter £2
Add King Prawns £6, Add Hand Dived Scallops £10, Add ½ Lobster £26.50, Add Langoustines £15
King Prawn Chilli & Lime Linguine Coriander £23
Pan Fried Scallops Puy Lentils, Pancetta, Apple Chilli Jam £30 (GF)
Roasted Tarbert Lobster Chips, Garlic Butter Half £27.50 Whole £54
Oyster Bar Menu
(continued)
Oysters
Half Dozen Fresh Oysters with Lemon £15 Add Shallot Vinegar or Chilli & Mint Vinegar £1 each (GF) (DF)
Hot Oyster Selection Anchovy & Parmesan or Chilli Lime & Tomato Concasse with Cheddar Cheese
6 for £21, £3.50 each
Deep Fried Crispy Angel Oysters, Panko Crumb, Horseradish Mayo 6 for £21, £3.50 each
Loch Fyne Seafood Platter
Whole Brown Crab, Tarbert Lobster, Scallops, Oysters, Langoustines, Crab Claws Whole £135 Half £80
Platter Served Chilled (DF) (GF)

Sides
Chips and Aioli £6.50 (GF) (DF) (V)
Buttered New Potatoes £4.50 (GF)(V)
Onion Rings £4.50 (DF) (V)
Halloumi Fries £9 (V)
Mozzarella Fries £8.50 (V)
Rocket & Parmesan Pine Nut Salad £4.50 (GF)
Mac & Cheese £5.50 (V)
Seasonal Veg £4.50 (V) (GF)
Garlic Bread £4.50 (V)
Bread Basket £3.50 (V)
Sauces Aioli, Truffle Mayo, Tartare, Marie Rose, Wholegrain Mustard Mayo £1 each
Dessert
Pineapple Tarte Tatin Coconut Ice Cream £8
Sticky Toffee Pudding Toffee Sauce, Vanilla Ice Cream £8
Apple & Berry Crumble Vanilla Ice Cream £8
Ice Cream Please ask for flavours £1.85 per scoop
Two Scottish Cheeses Chutney, Arran Oatcakes £7.50
Bar Menu
Salmon Selection Horseradish Cream, Baby Capers £14.50
Chilli Hot Wings Sweet Chilli Dip £8
Chilli and Lime Olives £6
Chefs Smoked Mixed Nuts £6
Polenta Fries £6
Onion Rings £4.50
Garlic Bread £4.50
Halloumi Fries Chilli & Lime Mango Sauce £9
White Bait Tomato Sauce £8
Children's Menu
Macaroni Cheese Garlic Bread or Fries £7.50
Haddock & Chips ketchup £9.50
Burger & Chips Coleslaw £8.50
Pasta Bolognaise Garlic Bread £9
Pan Fried Chicken Breast Mash & Seasonal Veg £10


Children's Desserts
Sticky Toffee Pudding Vanilla Ice Cream £4.50
Belgian Waffles Coconut Ice Cream, Fresh Berries, Toffee Sauce £5.50
Ice Cream Trio of Strawberry, Chocolate & Vanilla £2.50
Takeaway Menu
Six Fresh Oysters with Lemon £12
Classic Smoked Salmon Baby Capers, Lemon £6
Soup of the Day Bread £5
Langoustine Bisque Bread £6
Fresh North Sea Haddock Thick Cut Chips, £12
Grilled Langoutines Chips, Garlic Butter £17
Sauces Tartare, Tomato, Aioli, Shallot Vinegar £1
Side of Bread & Butter £1
Allergies & Special
Dietary Requirements
(V) Vegetarian
(Vegan) Vegan
(DF) Dairy Free
(GF) Gluten Free

Please make your server aware of any allergies or dietary requirements.

All menu items are subject to change, based upon availability
Ask about our weekly specials when ordering!