Golden Shell Mussels from the Hebrides in a fridge friendly leak proof tub.
AVAILABLE FOR DELIVERY FROM WEDNESDAY 1ST NOVEMBER 2023
Loch Fyne's distinctive Golden Shell Hebridean Mussels are grown on ropes in the pristine waters of Loch Roag on the Isle of Lewis. They are a natural, nutritious and delicious shellfish showcasing the very best of Scotland's larder. Loch Fyne Oysters is the first ASC approved "Mytilus edulis" mussel grower in the world.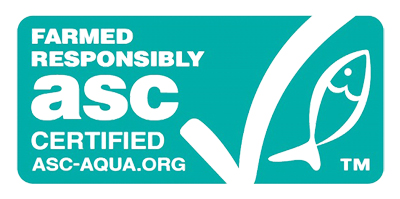 Look for the mark of responsibly farmed seafood.
ASC - C - 1456

Our fresh mussels are now available in more than 100 Waitrose stores.
To find your nearest store click here.

This product requires cooking before consumption.
Preparation for cooking
Never store mussels in water. Mussels should be removed from packaging and rinsed thoroughly under fresh water immediately prior to cooking. Remove any threadlike fibres (beard) from the shell. Any mussels that do not close before cooking or do not open after cooking should be discarded. These animals must be alive when sold.
Serving Suggestion
Steamed Mussels with Shallots & Bacon - serves 4 main course.
A perfect dish, ready in less than 15 minutes.
Finely dice 200g bacon, 8 shallots and crush 4 cloves of garlic. Fry together in a little rapeseed oil for one minute. Add 2kg of cleaned mussels (in their shells) and some freshly ground black pepper. Then place lid on pan and cook for 5 to 10 minutes until all mussels are opened. Sprinkle with finely chopped fresh parsley and serve with crusty bread.
Ingredients
Farmed Rope Grown Scottish Mussels (MOLLUSCS) (Mytilus edulis) 100%
Allergens are identified in CAPITALS.
Storage
Store in a refrigerator at 2° to 4° C in original packaging. Do not freeze.
Nutritional Information
| | | | |
| --- | --- | --- | --- |
| Typical Values | Per 100g | RI for Average Adult | RI% |
| Energy | 294kj/69kcal | 8400kj/2000kcal | 3.5% |
| Fat | 0.8g | 70g | 1.1% |
| of which saturates | 0.3g | 20g | 1.5% |
| Mono-unsaturates | 0.2g |   |   |
| Poly-unsaturates | 0.3g |   |   |
| Carbohydrate | 6.2g | 260g | 2.4% |
| of which sugars | 3.2g | 90g | 3.6% |
| Fibre | 1g |   |   |
| Protein | 8.8g | 50g | 17.6% |
| Salt | 1.3g | 6g | 21.7% |
Reference intake of an average adult (8400kj / 2000kcal)
RI = % of your daily reference intake