Fresh Mussels with Thai Green Sauce
Mussels 540g plus sauce. Ready to serve in just 10 minutes.
Loch Fyne's distinctive Golden Shell Hebridean Mussels are grown on ropes in the pristine waters of Loch Roag on the Isle of Lewis. They are a natural, nutritious and delicious shellfish showcasing the very best of Scotland's larder. Loch Fyne Oysters is the first ASC approved "Mytilus edulis" mussel grower in the world.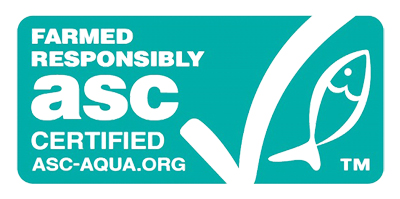 Look for the mark of responsibly farmed seafood.
ASC - C - 1456

This product requires cooking before consumption.
Preparation for cooking
Never store mussels in water. Mussels should be removed from packaging and rinsed thoroughly under fresh water immediately prior to cooking. Never soak or store in water. Remove any threadlike fibres (beard) from the shell. Any mussels that do not close before cooking or do not open after cooking should be discarded. These animals must be alive when sold.
Cooking
Remove from outer packaging and prepare mussels as above.
Empty contents of sauce sachet into a large saucepan and simmer gently for one minute.
Stir occasionally to prevent sticking.
Add the mussels to the pan and stir to coat in sauce.
Cover with lid and simmer for approximately 5 - 9 minutes (cooking times may vary) or until all shells have opened.
Half way through lightly shake the pan or stir to allow the mussels room to open.
Ingredients
Live Scottish Farmed Mussels (MOLLUSCS) (Mytilus edulis) 84%, Thai Green Curry Sauce 16%: Water 25.05%, coconut milk (coconut, water) 23.89%, Single Cream (MILK) 23.26%, Onion 4.14%, Coriander 2.61%, Spinach 2.61%, Rapeseed oil 2.6%, Lemon grass 2.17%, Lime Leaves 2.17%, Red chilli Puree 1.74%, Lime Juice 1.74%, Garlic Puree 1.74%, Cornflour 1.74%, Ginger Puree 1.74%, Sugar 1.3%, Fish Sauce (water, anchovy (FISH), salt, sugar) 0.7%, Salt 0.7% Stabiliser: xanthan gum 0.1%.
Allergens are identified in CAPITALS.

Warning may contain fragements of shell.

Storage
Store in a refrigerator at 2° to 5° C in original packaging. Do not freeze.
Nutritional Information
| | | | |
| --- | --- | --- | --- |
| Typical Values | Per 100g | RI for Average Adult | RI% |
| Energy | 381kj/91kcal | 8400kj/2000kcal | 4.6% |
| Fat | 4.2g | 70g | 6% |
| of which saturates | 2.5g | 20g | 12.5% |
| Carbohydrate | 6.1g | 260g | 2.35% |
| of which sugars | 1.2g | 90g | 1.3% |
| Fibre | 1g | | |
| Protein | 7.7g | 50g | 15.4% |
| Salt | 1.4g | 6g | 23.3% |
Reference intake of an average adult (8400kj / 2000kcal)
RI = % of your daily reference intake